Resources
>
Dirty Adult Charades Ideas – The Ultimate List of 125 Dirty and Innuendo Ideas
Dirty Adult Charades Ideas – The Ultimate List of 125 Dirty and Innuendo Ideas
Charades can be a great game for people of all ages! Sometimes, however, the adults just want to play by themselves. Whenever this is the case, it can be a fun time to act out some "adult only" charades ideas, that may not be suitable for a younger audience. For times just like this, we have decided to construct a list that you may not need too much imagination for, depending on how dirty your mind is! Be warned, this could get saucy.
Table of Contents
List of Ideas for Adult Charades Ideas
Just remember, if it looks dirty, it is dirty, and if you need any help with trying to act some of these adult charades ideas out, just think of the most "adult like" way you can imagine.
List of Adult Actions to act out
Below is a list of adult charades ideas you can act out. This is a great way to start off a game of dirty charades! If you find a way of acting these out without looking dirty, we commend you.
Shaking salt into your mouth
Licking your fingers to remove a stain that tragically appeared around the groin area – now there's no need to go hard (excuse the pun) on accepting answers for these actions, "removing a stain" as a guess will suffice!
Slapping a fly that landed on your butt – again, "slapping a fly", for example, is sufficient!
Licking a big lollipop
Moving a table with just your hips
Churning milk
Trying to catch falling rain on your tongue – I hear it's easier to do this on your knees.
Tossing salad
Milking a cow – or two at the same time
Playing handball – the ball keeps bouncing back on waist level for some reason
Really enjoying an ice pop
Licking out a crème egg
Milk jugs
Hectically searching for keys in your pocket while watching an exciting sports game
The birds and the bees
Bouncing on an exercise ball
Peeling a banana with your teeth
Lightly wiping away crumbs that fell around your chest – mainly the nipple area
Hands behind your head, trying to catch your breath after a long intense jog
Satisfyingly licking milk from your top lip
Frantically licking the last bit of melted chocolate from the centre of a very big bowl – this bowl is really big, we're talking at least three times as wide as your head
Trying to take something from a vending machine without paying
Using a tree to scratch your back
Trying to put your feet behind your head – or succeeding
Doing half-squats
List of Adult Movies to act out
Some of the ideas in the below lists aren't necessarily always "adult only" movies. Sometimes, it's what's in the title that really makes it a game of dirty charades!
50 Shades Darker
Hancock
The Pianist
Brokeback Mountain
Raging Bull
Get Hard
Deep Impact
Snatch
Sex and the City
Up
Knocked Up
Fast & Furious
Fanny and Alexander
Die Hard
Toy Story
Austin Powers: The Spy Who Shagged Me
The 40-Year-Old Virgin
Free Willy
Gone in 60 Seconds
Blow
The Missionary
Magic Mike
The Rider
Big Daddy
Inside Man
List of Adult Songs to act out
Again, it's more what's in the title rather than the song itself… Bar a couple of songs you'll know by certain dirty actions.
Work (Rihanna)
Milkshake (Kelis)
Shake It (Metrostation)
Boombastic (Shaggy)
Sexual Healing (Marvin Gaye)
Love Myself (Hailee Steinfeld)
Sex on Fire (Kings of Leon)
Lollipop (Lil Wayne)
Knocking At Your Back Door (Deep Purple)
Get Down Tonight (KC & The Sunshine Band)
Slow Motion (Juvenile)
Bump N' Grind (R. Kelly)
Slow Hands (Niall Horan)
Smack That (Akon)
Candy Shop (50 cent)
Love Machine (Girls Aloud)
Hard to Beat (Hard-Fi)
Two Fingers (Jake Bugg)
Love Yourself (Justin Bieber)
Sucker (Jonas Brothers)
Pop Out (Polo G)
Ridin' Solo (Jason Derulo)
Don't Let the Sun Go Down on Me (Elton John)
Come On Eileen (Dexys Midnight Runners)
Positions (Ariana Grande)
List of Adult Books to act out
Here's a list for all you dirty minded people to act out in a big game of adult charades!
Moby Dick
The Secret Garden
Hard Rain
Big Bang
50 Shades of Grey
City of Bones
Hop on Pop
The Harder They Come
Holes
Kissing the Rain
Extremely Loud and Incredibly Close
V.
The Naked and the Dead
Mr. Big
Hard Times
Open All Night
James and the Giant Peach
It
Fingersmith
So Big
Drummer Dick's Discharge
Milkman
The Hole in the Dike
Eating People is Wrong
I Get Wet
List of Adult Characters and Celebrities to act out
You'd be surprised at how many character names can be innuendos. Here's a list of dirty charades ideas for character names and famous people.
Willy Wonka
Mickey Mouse
Woody
Bender
Steve Stifler
Fanny Chmelar
Pussy Galore
Gaylord Focker
Willy
Rod Stewart
John Shaft
McLovin'
The Jerk
Randy Savage
Luna Lovegood
Mr. Small
Long Duk Dong
Shaggy
Han Solo
Woody Harrelson
Aladdin
BJ Novak
Dick Van Dyke
Squirtle
Allota Fagina
Printable Cards for Dirty Charades
The best way to play dirty charades is to print off a bunch of cards and pick them out of a hat - which is why we created cards in an easy to print (and cut up) format! You can check out and purchase these by clicking here. You can also find a full list of our printable cards for you to enjoy here. We've also included some extra dirty ideas that aren't included here - have fun and make sure not to keep it clean.
Go Enjoy a Nice Game of Dirty Charades!
The key to a great game of adult charades is all in the actions! You make sure you're as extravagant as possible. If you need to get on your hands and knees for a charade action to work, you do just that. And remember - any movie title, any celebrity name, any word at all - can always be turned into something dirty!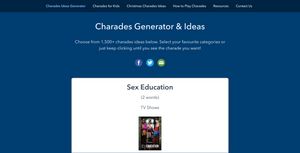 Want More?!
There are many more charades ideas to choose from, however, we hope this list helps to keep your mind dirty and helps you get on your way to a great game of adult charades! If you'd like more random charades ideas based on different topics, you can click here for our free charades ideas generator!