Resources
>
List of 200 Ideas for Easy and Hard Charades - Suitable for Any Age Group (Updated 2021)!
List of 200 Ideas for Easy and Hard Charades - Suitable for Any Age Group (Updated 2021)!
Charades is a great game that can be enjoyed by people of all ages! For a great game of charades to work, it's important to know your audience. If playing with kids, you may want to use easy words and phrases, so they can join in just as much as the adults! If this is the case, you may want to use our free charades generator for kids.
When playing with adults, you may want to use more difficult and challenging words and phrases for others to guess, in which case, you may choose to use our free online charades generator which is directed at a slightly older audience.
However, the people you're playing with may not always be the reason you want an easier or harder game of charades to play. Among other reasons, time can play a part in whether you would prefer a long or short game of charades. This is where our handy list of easy and hard charades comes in handy!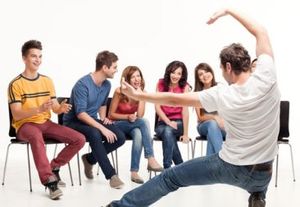 Image courtesy of www.reallifestl.com
Table of Contents
Phrases for playing easy and hard charades
Below you will find lists of easy and hard charades phrases to set you on your way to playing a great game of charades! Just remember, it's not always about how hard it is to act a certain word out. It's also about how likely people are going to guess the word or phrase! For example, most people have heard of the book series 'Harry Potter', but how many know of the children's book series 'The Wren'? These are the types of questions you should ask yourself before playing an easy or hard game of charades!
List of Easy and Hard Actions to act out
Below is a list of both easy actions to act out and hard actions to act out! With actions, sometimes it's a simple addition of a word that can make it more difficult!
Easy Charades Ideas:
Cycling
Watching TV
Swimming
Running
Flying in a plane
Sleeping
Flipping pancakes
Listening to music
Driving a car
Writing a letter
Skiing
Giving a haircut
Drinking
Typing
Eating
Having a snowball fight
Playing the guitar
Surfing
Yawning
Playing golf
Praying
Brushing teeth
Showering
Meditating
Singing
Hard Charades Ideas:
Cycling a tricycle
Watching a Romantic Comedy
Doing the Backstroke
Running on a treadmill
Flying in first class
Sleeping in a hammock
Cooking meat
Listening to classical music
Driving a go kart
Writing a letter of complaint
Tobogganing
Flying a drone
Winning an award
Gardening
Sailing
Acting on stage
Playing the cowbell
Pretending to be surprised
Putting on a wig
Wrestling
Watching YouTube
Teaching a language
Having a bath
Learning
Paddle boarding
List of Easy and Hard Movies to act out
When it comes to movies, it's also about what movies are well-known to people that can make it easy or difficult. A movie nobody knows can sometimes be hard to guess, no matter how easy the title may seem! See below for a list of easy and hard movie examples for charades.
Easy Charades Ideas:
Up
Fight Club
Jaws
Ran
Back to the Future
Home
2 Guns
The Lord of the Rings
Jurassic Park
Man of Steel
The Hunchback of Notre Dame
Star Wars
Cars
The Jungle Book
Seven
First Man
The Godfather
Good Boys
Spider-Man
Tenet
Marriage Story
Airplane!
Monsters Inc.
It
Taxi Driver
Hard Charades Ideas:
Inception
Saving Private Ryan
The Terminator
On the Waterfront
Once Upon a Time in America
Vertigo
Alice in Wonderland
The Hobbit
Ratatouille
American Beauty
The Dark Knight Rises
Brave
The Shining
Forrest Gump
Honey, I Shrunk the Kids
The Prestige
Oblivion
Hereditary
Ad Astra
The Shawshank Redemption
Shazam!
Three Billboards Outside Ebbing Missouri
Gangs of New York
Black Widow
There Will Be Blood
List of Easy and Hard Songs to act out
One thing you can do to make this category harder, is to make people guess the singer/band as well! See below for a list of easy and hard songs to act out in a great game of charades!
Easy Charades Ideas:
Heaven (Bryan Adams)
Outside (Catfish and the Bottlemen)
Sorry (Justin Bieber)
Dance, Dance (Fall Out Boy)
Right Now (One Direction)
Side to Side (Ariana Grande)
Don't Look Back in Anger (Oasis)
Dancing Queen (ABBA)
My Hero (Foo Fighters)
Umbrella (Rihanna)
Eye of the Tiger (Survivor)
Jumpman (Drake)
Hello (Adele)
Roses (The Chainsmokers)
My House (Flo Rida)
7 Rings (Ariana Grande)
I'm the One (DJ Khalid)
Singin' in the Rain (Gene Kelly)
Shape of You (Ed Sheeran)
Bad (Michael Jackson)
Slide (Calvin Harris)
Your Song (Elton John)
Bad Guy (Billie Eilish)
Someone You Loved (Lewis Capaldi)
Dance Monkey (Tones and I)
Hard Charades Ideas:
Under Pressure (Queen)
Perfect (Ed Sheeran)
Take Me to Church (Hozier)
Complicated (Avril Lavigne)
Particles (Nothing But Thieves)
Stay With Me (Sam Smith)
I Bet You Look Good on the Dancefloor (Arctic Monkeys)
Lived a Lie (You Me At Six)
Total Eclipse of the Heart (Bonnie Tyler)
Hooked on a Feeling (Blue Swede)
Boneless (Steve Aoki)
Scar Tissue (Red Hot Chili Peppers)
Radioactive (Imagine Dragons)
You Shook Me All Night Long (AC/DC)
Tribute (Tenacious D)
Passionfruit (Drake)
Raspberry Beret (Prince)
Better Now (Post Malone)
Bohemian Rhapsody (Queen)
Harmony Hall (Vampire Weekend)
Intentions (Justin Bieber)
Space Oddity (David Bowie)
Blinding Lights (The Weeknd)
Godzilla (Eminem)
Savage (Megan Thee Stallion)
List of Easy and Hard Books to act out
Similar to movies, it can depend on how well-known a book is that makes it easy or difficult to act out. See below for a list of easy and hard books to act out in charades!
Easy Charades Ideas:
Catch-22
Harry Potter
The Red and the Black
The Hunger Games
Nineteen Eighty-Four
Frankenstein
The Lord of the Rings
Little Women
The Scarlet Letter
The Rainbow
Dracula
The Woman in White
Money
The Big Sleep
Men Without Women
Angels and Demons
Bad Blood
Secondhand Time
The Road
Doctor Sleep
Normal People
White Teeth
Moneyball
Night Watch
Gone Girl
Hard Charades Ideas:
Pride and Prejudice
The Adventures of Huckleberry Finn
The BFG
Wuthering Heights
Ulysses
The DaVinci Code
The Divine Comedy
Brave New World
The Great Gatsby
Catcher in the Rye
Atonement
Charlotte's Web
American Pastoral
LA Confidential
Tinker Tailor Soldier Spy
Atomic Habits
Matilda
The Tipping Point
Gilead
James and the Giant Peach
Cloud Atlas
Misery
The Siege
True History of the Kelly Gang
The Constant Gardner
Printables for Easy and Hard Charades Ideas
If you would like to play charades the traditional way, we have a bunch of easy and hard charades cards in printable format. These include the above ideas with many more that aren't here. You can click here to check out and purchase our easy charades cards. And if you would rather make things more difficult, our hard charades cards are available here. You can also find our full list of ideas to print off here - thank you so much for supporting us and enjoy!
Easy Charades Ideas Generator
If you would like to generate more easier phrases and words at random, you should use our free online charades generator for kids to help come up with things to act out during a game of charades. It contains all of the ideas above, plus many, many more
Hard Charades Ideas Generator
If you would like to generate random harder words and phrases, you can use our regular online charades generator. Typically, this generator has harder things to act out than our kids generator linked above!