Resources
>
Charades Ideas for Kids of All Ages - 240 Ideas (Updated 2022)
Charades Ideas for Kids of All Ages - 240 Ideas (Updated 2022)
Since you are an awesome parent, I guess you try to spend as much time as possible with your kids and their friends, right? Birthday parties, sleepovers, play dates; you do them all. In that case, I'm sure you're familiar how frustrated kids get when they are bored – and how easily things start to bore them. When that happens, it's time to bring out the big guns. Charades offer an excellent distraction, and it is something you can enjoy as well. Adapting the game for kids of various ages is easy, just keep in mind that they won't insist on the rules as much as you might. That's perfectly ok; the purpose here is to keep them entertained and sociable.
Use Our Online Charades Ideas Generator!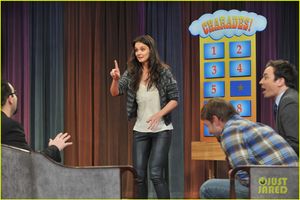 Image courtesy of www.justjared.com
Table of Contents
What Are Charades? And How To Play?
Even though we are quite sure that most of you are familiar with the concept of charades – chances are you played it yourself as a kid, and we are sure some of you enjoy a good game of charades even now – it bears repeating for those unfortunate parents that are unfamiliar with this magical way of entertaining kids.
Charades is a guessing game whose object is to successfully communicate a word or a phrase to the rest of your team by acting it out. Speaking and mouthing stuff is not allowed. Here is how it works. Players divide into teams and one person from the team has to act out a word or a phrase to the rest of their team. They have a limited amount of time to do so, however, and a certain level of prowess is needed to be a charades champ.
The opposing team members usually know the phrase that's being acted out – it helps to keep things fair – but there are modified versions of the game where only the person acting it out knows it. This enables all players to have a go and cuts down on the wait. If you are playing with kids we recommend the later version; sometimes it's simply impossible to explain a three-year-old that it is not their turn! Keeping score is simple. If your team guessed the phrase, you get a point.
The phrases are usually picked from categories familiar to all those participating. Movies, celebrities, songs, actions, and books are all allowed, but when playing with kids you will want to limit the categories to those you know will be familiar to them. In the past, the players would write down phrases on a piece of paper and then pull them out of a hat. Today, you don't have to bother. Simply open up an online phrase generator, and you will have access to a bunch of charades ideas for kids!
Generate Charades Ideas for Kids Now!
Adapting Charades for Kids
If you are playing with children, consider the best ways you can adapt the game to them so they find it a worthwhile occupation and, what's more important, fun. Playing with children under three years old is somewhat challenging; not all toddlers can understand the concept and you will have to really put in an effort for them to participate in a meaningful way. This is not to say that it is impossible. Some three-year-olds will be able to grasp the essence of the game if you keep the phrases limited to their favorite toys, cartoons, and TV shows. Most kids this age will get more of a kick out of trying to guess a phrase than acting it out, so be prepared to work hard at keeping the game going and keeping it fun for them.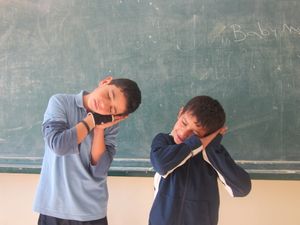 Image courtesy of www.ogosport.com
Slightly older kids will be prepared to participate more actively. You will have to give them some leeway, however. Allowing for more time and letting them hint at the phrase (if their team members are not the best at guessing) works like a charm in preventing fits of rage and frustrated tantrums. Also, playing the 'free for all' style of the game is best suited for kids of all ages. They can divide into teams but if everyone gets a go you will cut down on any complaints – he already went, it's not her turn, you're not on OUR team, these sort of complaints – significantly; plus, it's more fun for everyone involved.
List of Ideas for Playing Charades
Generate Charades Ideas for Kids Now!
Kids Actions ideas
This is more for the younger age group. Depending on the action, young kids should be able to pick up on these quite quickly! If you would like a full list of action ideas, you can check out our article on Charades Action Ideas.
Sleeping
Yawning
Brushing teeth
Running
Drinking
Eating
Listening
Smelling
Shaving
Washing
Driving
Thinking
Calling someone on the phone
Watching TV
Swimming
Stretching
Jumping
Cutting hair
Looking through binoculars
Reading a book
Generate Charades Ideas for Kids Now!
Animal ideas
Again, this is more directed at younger children, but only if you use very common animals! If you would like a full list of animal ideas you can have a look at our article on Charades Animal Ideas.
Lion
Dog
Cat
Pig
Elephant
Tiger
Mouse
Cow
Sheep
Horse
Giraffe
Monkey
Chicken
Duck
Seal
Bee
Parrot
Gorilla
Snake
Shark
Cartoon Character ideas
One of the best ways to engage small kids with charades is to present them with an opportunity to act out their favorite cartoon characters. These work better for older kids that can move on from actions and animals.
Dora the Explorer
Bob the Builder
Ben Ten
Puss in Boots
Scooby-Doo
Spider-Man
Peppa Pig
Bugs Bunny
Mickey Mouse
Daffy Duck
Popeye
Charlie Brown
Donald Duck
SpongeBob
Patrick Star
Shaggy
Tom Cat
Elmer Fudd
Snoopy
Fred Flintstone
Jerry Mouse
Tweety Bird
Porky Pig
Woody Woodpecker
Yogi Bear
Buzz Lightyear
Woody
Tasmanian Devil
Goofy
Angelica Pickles
Tommy Pickles
Generate Charades Ideas for Kids Now!
Kids Cartoons and TV Shows Ideas
Your child's favourite characters have to come from somewhere right? Some cartoons and TV shows your child might know are:
The Muppet Show
Hannah Montana
Sesame Street
Jessie
Signing Time
Alvin and the Chipmunks
Transformers
The Aquabats! Super Show!
Star Wars: The Clone Wars
The Mr. Peabody & Sherman Show
How The States Got Their Shapes
Sid the Science Kid
Clangers
Star vs. the Forces of Evil
Curious George
Pee Wee's Playhouse
Ask the StoryBots
Beat Bugs
Paw Patrol
Invader Zim
Teenage Mutant Ninja Turtles
Shimmer and Shine
Anamaniacs
Search and Explore
Timmy Time
Word Party
The Stinky and Dirty Show
Hey Arnold
Dexter's Laboratory
Rugrats
Jackie Chan Adventures
Teen Titans Go!
Kids Movies Ideas
We all love to gather as a family and watch movies together. Here are some childrens movies you can use for your next game of charades. Often the kids are better at acting these out than their adult opposition!
Frozen
Monsters, Inc.
Monsters Vs Aliens
Tomorrowland
Wreck-It Ralph
Cars
Finding Nemo
Brave
Big Hero 6
Bolt
How to Train Your Dragon
Shrek
Wall-E
A Bug's Life
Ratatouille
Up
Toy Story
The Incredibles
The Lion King
Rio
Rio 2
Aladdin
The Princess and the Frog
The Muppet Movie
Tangled
Maleficent
Inside Out
Snow White and the Seven Dwarfs
Peter Pan
Lady and the Tramp
The Jungle Book
Sleeping Beauty
Alice in Wonderland
Tarzan
Pocahontas
Mulan
Cinderella
Beauty and the Beast
The Little Mermaid
The Hunchback of Notre Dame
Hercules
Lilo & Stitch
Winnie the Pooh
The Tigger Movie
Dumbo
Bambi
The Fox and the Hound
Frankenweenie
The Good Dinosaur
101 Dalmatians
Robin Hood
Pinnochio
Rise of the Guardians
Penguins of Madagascar
Flushed Away
Kung Fu Panda
Madagascar
Turbo
Bee Movie
Puss in Boots
Megamind
Epic
Moana
Sonic the Hedgehog
Spies in Disguise
Smallfoot
Generate Charades Ideas for Kids Now!
Popular Kids Songs and Singers Ideas
Acting out videos of popular songs can be a lot of fun for certain kids, especially if they are musically inclined. If this is one of their predominating interests then by all means, include popular songs as a category. Just make sure that everyone playing is likely to know your top 10 picks!
Taylor Swift
Selena Gomez
Katy Perry
Demi Lovato
Miley Cyrus
Harry Styles
Niall Horan
Liam Payne
Zayn Malik
Justin Bieber
Ariana Grande
Stitches
Uptown Funk
You Are My Sunshine
Hot Dog!
Chicken Dance
Mickey Mouse Clubhouse Theme
Twinkle, Twinkle Little Star
The Ants Go Marching
Five Little Ducks
7 Rings
Gangnam Style
Drivers License
Again, expand the list with anything that is currently popular, and the kids are listening to.
Kids Book Ideas
This is a category for kids in school – or those 'brainiacs' that are reading at the ripe age of five! This one can be tricky, however; not all kids read the same stuff and not all kids read, period. Use it when you are confident that everyone participating in the game has the habit of curling up with a good book.
Harry Potter and the Prisoner of Azkaban
Charlotte's Web
The Very Hungry Caterpillar
The Secret Garden
Inkheart
Pippi Longstocking
The Snowy Day
Where the Wild Things Are
The Chronicles of Narnia: The Lion, The Witch, and the Wardrobe
The Princess Diaries
Alice's Adventures in Wonderland
A Bear Called Paddington
The BFG
The Cat in the Hat
Charlie and the Chocolate Factory
Diary of a Wimpy Kid
Fantastic Mr Fox
The Gruffalo
James and the Giant Peach
Little Miss Sunshine
The Lorax
Matilda
Mr. Tickle
Code Name Bananas
A Series of Unfortunate Events
The Tale of Peter Rabbit
The Twits
Green Eggs and Ham
Winnie the Pooh
The Hunger Games
Goodnight Moon
Anne of Green Gables
The Ickabog
As a side note, we wholeheartedly recommend you get your kids hooked on books by Terry Pratchett! They'll thank you for it for the rest of their lives!
Generate Charades Ideas for Kids Now!
Kids Video Games Ideas
Video games can be a big part of a child's life nowadays - if you want to try and coax them off the screen for a while, why not try using their favourite games? If you'd like more gaming ideas, you can check out our article on Video Game Ideas for charades.
Mario Kart
Minecraft
Animal Crossing
Super Mario
Marvel's Avengers
Team Sonic Racing
Tetris
Plants Vs Zombies
The Sims
Pokémon
Final Fantasy VIII
The Legend of Zelda: Breath of the Wild
Ratchet and Clank
Kingdom Hearts III
Untitled Goose Game
Generate Charades Ideas for Kids Now!
It's Not All Fun and Games – Charades Are a Learning Opportunity
Charades are a great way for kids to learn and develop. Since kids learn best if we add an element of fun into the whole process, it is safe to say that charades will help them develop their communication and socialization skills.
If you insist on adhering to the rules – and are good at getting kids to follow your example – then this is a great opportunity to teach them discipline. Older kids are better at this, however, save yourself the time and the frustration and don't try it on three-year-olds.
One of the most important benefits of charades is that it teaches children teamwork. They get to experience how quickly problems get solved if they cooperate and pull together. A game of charades is character building and a great way to teach kids how things work – or should work – in the world of grownups.
Generate Charades Ideas for Kids Now!
Printable Cards of Charades Ideas for Kids
You can download our printable list of kids charades ideas by clicking the link below, while our full range of printables are available here - have fun! Or if you'd prefer to go green, head to the next section!
Charades for Kids Ideas Generator
If you would prefer to go green and use an online tool to come up with ideas to play charades with your kids, then use a generator like this one. It contains all of the ideas above, plus 100s more. One other useful feature is it reveals how many words are in each idea, ideal for younger children.
Generate Charades Ideas for Kids Now!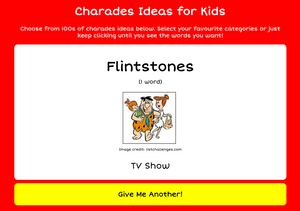 Now Go Play With Your Kids!
Charades are a source of great fun for the entire family and there is simply no reason not to adapt the game to kids. Charades ideas for kids of all ages are everywhere around you. Since we are certain that you know what makes your child tick, we imagine that you won't have any problems coming up with them. If you hit a snag, you can always turn to this generator which includes 100s of ideas there. The important thing to keep in mind is that kids put fun first, so make sure that you deliver on that promise!
Have any more ideas to be added, or any feedback and suggestions on this piece? Please
get in touch here
. We're looking forward to hearing from you.