Resources
>
The Awesome List of Charades Ideas for Independence Day - 100 Ideas (2021)
The Awesome List of Charades Ideas for Independence Day - 100 Ideas (2021)
It's Independence Day!.. Unless you're playing a 4th of July themed game on a different date - which is totally fine too!
Either way, if you've clicked on this article, you more than likely know what you're looking for.
We have an amazing list of charades ideas that are all centered around Independence Day! Scroll down for a bunch of great ideas under different categories.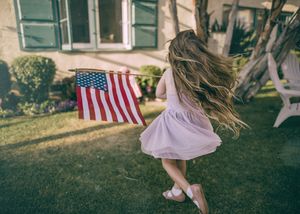 Charades can be a great way to celebrate Independence Day. If you want to relax for a short while (or the opposite if you're super competitive) this is an awesome way to get the whole family together. We have a great list below that we think you'll love, but if you would rather ideas that aren't based around the 4th of July, you could check out our Resources page for more articles full of charades ideas. Or just simply use our Charades Ideas Generator for random things to act out.
Our lists below are split up into 4 categories, including Independence Day words, movies, songs, and books.
Independence Day word ideas
What better way to kickstart your game of charades than acting out some Independence Day related words. This is a tried and tested way of getting everyone in the mood for a fun game, but that doesn't mean all of the ideas below are easy to act out!
4th of July
Freedom
United States
Independence
Fireworks
George Washington
American flag
Stars and stripes
Red, white and blue
Statue of liberty
Patriot
Bald eagle
Flag
History
Barbecue
Celebration
Family
Baseball
America
Liberty
American football
Pride
Star spangled
Red
White
Blue
Festive
Free
4th of July weekend
Revolution
Picnic
Firecracker
Bravery
Founding fathers
Life, liberty and the pursuit of happiness
Declaration of independence
Love of country
National anthem
Parade
Sparklers
Victory
Spirit
Tradition
Summer
Proclamation
Salute
Soldiers
Veterans
Uncle Sam
One nation under God
Movie ideas
Some of the movies below are based around the 4th of July, while others are just great movies to watch around this time of year. I'll give you one guess as to what the first movie title in the list is going to be…
Independence Day
Born on the Fourth of July
Lincoln
Top Gun
Hidden Figures
National Treasure
Air Force One
Zero Dark Thirty
Captain America: The First Avenger
The Patriot
Harriet
1776
Pearl Harbour
Glory
Flags of our Fathers
Patriot Games
The American President
A Few Good Men
Olympus Has Fallen
Good Morning Vietnam
Song ideas
We of course need to place the American National Anthem at the top of this list, but trying to act out each word may be more difficult than you think. We have some easier options in the list below too, but we also have an article on Easy and Hard Charades Ideas(/resources/a-list-of-120-easy-and-hard-charades-ideas/) to act out if you prefer.
The Star-Spangled Banner (American National Anthem)
Party in the U.S.A. (Miley Cyrus)
Color Me America (Dolly Parton)
America the Beautiful (Ray Charles)
Firework (Katy Perry)
God Bless America (Celine Dion)
Living in America (James Brown)
American Boy (Estelle)
The Stars and Stripes Forever (John Philip Sousa)
American Spirit (Thomas Rhett)
Fortunate Son (Creedence Clearwater Revival)
Born in the U.S.A. (Bruce Springsteen)
American Heart (Faith Hill)
Freedom (Kenny Chesney)
Almost Independence Day (Van Morrison)
Surfin' U.S.A. (The Beach Boys)
Fourth of July (Fall Out Boy)
Sweet Home Alabama (Lynyrd Skynyrd)
Made in the U.S.A. (Demi Lovato)
Rockin in the Free World (Neil Young)
Book ideas
This may not be a very common thing to do on the 4th of July, but for an Independence Day themed charades night, it can be a great category. Here's a few book titles that you can act out in real American spirit!
Happy Birthday, America
The Night Before the Fourth of July
Red, White and Boom!
Blue Sky White Stars
The Underground Railroad
Parade Colors
Those Rebels, John and Tom
Fireworks, Picnics, and Flags
South and West
The Journey of the one and only Declaration of Independence
On the Search for More Ideas?
If you haven't found what you wanted in this list, why not have a look at some of our additional articles? We also have a free Charades Ideas Generator for a huge range of random charades ideas to act out. Simply filter through our categories, and keep clicking until you find the perfect idea! Or to make things more difficult, get everyone playing to generate an idea only once. That way players don't get to choose what they act out!