Resources
>
List of TV Show Ideas for Charades - The Complete List of 140 Ideas (2021)
List of TV Show Ideas for Charades - The Complete List of 140 Ideas (2021)
Want to play a fun game of charades? You've come to the right place!
Here, we have a list of TV show ideas you can use in a game of charades to help you out. We also have a Charades Ideas Generator with a wide range of ideas for you to choose from.
There are multiple categories to choose from in a game of charades. One of the best ways to keep things fair for those guessing, is to pick something that everyone knows. Looking at TV shows as a category can be an amazing way to do this!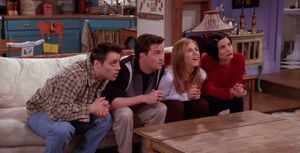 Image courtesy of Digital Spy
Who doesn't watch TV shows nowadays? There are more platforms than ever – Netflix, Amazon Prime, Hulu, Disney+, etc – to watch them on and they are becoming more and more popular! They are a major topic of discussion and can be a great way to connect with friends and family. Bringing this to the game of charades, can also bring the same connection, and make things even more exciting and fun!
In this article, you will find lists of TV Show ideas under the categories of; Action and Adventure, Comedy, Drama, Crime, Horror, Sci-Fi and Kids.
Action and Adventure TV Shows
We have some of your favourite action and adventure TV shows to choose from. From classic shows, to more modern ones, you're bound to know most of these. Get right into the action with these ideas below!
The Frontier
Vikings
WandaVision
The Mandalorian
The Letter for the King
Blood and Treasure
The Defenders
Shooter
MacGyver
Band of Brothers
Daredevil
Smallville
Merlin
24
The Boys
Cobra Kai
The A-Team
The Witcher
The Punisher
The Falcon and The Winter Soldier
Comedy TV Shows
Who doesn't love a good comedy show? Below are some popular comedies to choose from. If you're a big fan of one of these (and you know the other players are too) why not try acting out a particular scene from one of them for some added fun? Either way, have a good laugh with this list of comedy TV show ideas.
The Office
Schitt's Creek
Rick and Morty
It's Always Sunny in Philadelphia
Modern Family
Friends
Rules of Engagement
Curb Your Enthusiasm
The Simpsons
Parks and Recreation
Unbreakable Kimmy Schmidt
The Good Place
Everybody Loves Raymond
Malcolm in the Middle
The Big Bang Theory
Paradise PD
Brooklyn 99
New Girl
Arrested Development
Superstore
Drama TV Shows
From soaps to miniseries, we have a list of popular dramas that everyone can know and love. This is the best time to get a free pass for being a drama queen - so get dramatic with these TV show ideas!
The Crown
Grey's Anatomy
Call the Midwife
Neighbors
Riverdale
Casualty
Seventh Heaven
Downton Abbey
The West Wing
Home and Away
Mad Men
The Good Wife
EastEnders
Friday Night Lights
Big Little Lies
Suits
The Queen's Gambit
Coronation Street
This Is Us
Bridgerton
Crime TV Shows
Hopefully your teammates are as good at solving as the characters in these shows - they'll need it if you're planning to try and act out the first in the list! Check out our ideas for some gripping crime shows that are sure to break out your investigative skills.
Narcos
Peaky Blinders
Sherlock
Better Call Saul
Criminal Minds
Mindhunter
Breaking Bad
Line of Duty
The Mentalist
Luther
Bodyguard
The Sopranos
True Detective
Castle
The Wire
Sons of Anarchy
Broadchurch
Law and Order: Special Victims Unit
Midsomer Murders
The Fall
Horror TV Shows
Below are some popular thrilling and scary horror shows for you to choose from. And this goes without saying but… maybe don't reenact a scene from these shows like we said for the comedies…
American Horror Story
The Walking Dead
Slasher
Into the Dark
The Terror
Channel Zero
Ghoul
Penny Dreadful
Bates Motel
Fear The Walking Dead
Haunted
Scream
The Haunting of Bly Manor
The Mist
Lore
Hannibal
In the Flesh
Castle Rock
Marianne
The Haunting of Hill House
Sci-Fi TV Shows
I'm sure your attempt at some of these ideas will be out of this world!... I apologise. Now that we've got that out of the way, you can have a look at our list of sci-fi shows both old and new. Remove the 'fiction' from these shows with your attempt at adding these in your game of charades!
Black Mirror
Doctor Who
Lost
Stranger Things
Altered Carbon
Star Trek: Discovery
The Orville
Firefly
Under the Dome
Battlestar Galactica
The X-Files
Star Wars: The Clone Wars
Stargate SG-1
Eureka
The Umbrella Academy
Almost Human
The Outer Limits
Lost in Space
Orphan Black
Westworld
Kids TV Shows
Here's some ideas that can make things easier for the kids and possibly tougher for the adults. Our list covers both old and modern kids shows - but don't be afraid to think of some ideas yourself that are relevant for those you're playing with. If you're playing with your own children, you'll have a better idea of what they're watching and which shows they can guess quicker. And if you're playing with adults, you might know which shows are more relevant to them depending on when they grew up. If you'd like a full article on kids charades ideas you can click here. Or you could use our kids charades generator for more ideas for children!
Sesame Street
The Octonauts
Peppa Pig
SpongeBob SquarePants
Thomas and Friends
Paw Patrol
Shaun the Sheep
Ask the StoryBots
Jackie Chan Adventures
Kim Possible
Fireman Sam
Teenage Mutant Ninja Turtles
Young Justice
Adventure Time
Teen Titans Go
Dora The Explorer
The Legend of Korra
Mister Rogers' Neighborhood
Teletubbies
Horrible Histories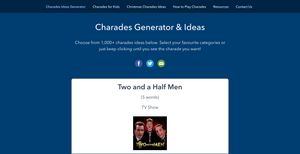 Want More Ideas?
If you're looking for more charades ideas - why not check out our free Charades Ideas Generator? We have a wide range of ideas for you to choose from. Simply add and remove filters as you like and start generating! We also have TV shows as a category for you to pick, so you can continue your search for more shows with our generator - enjoy your game!