Resources
>
150 Family Charades Ideas – The Complete List (Updated 2021)!
150 Family Charades Ideas – The Complete List (Updated 2021)!
Charades is one of the greatest games to play with the family. It's a game in which everyone can join in, no matter how young or how old! Charades is generally played during the holidays - especially at Christmas time. The reason for this is because it's a great way to get the whole family together and have some fun! While it's usually only played during holidays, it would be a great game to play when the entire family has some spare time! Family time is important, and especially in this digital era, it's a great way of getting the family together without sitting in front of a screen! If you would like ideas on what to act out, you can find some lists below or simply use our free online charades ideas generator for kids – perfect for a family game of charades!
Use Our Online Charades Ideas Generator!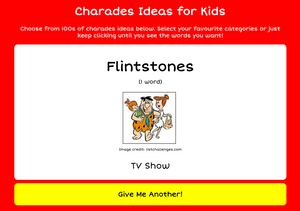 The Flintstones love a good game of family charades!
Table of Contents
Family charades phrases and words
Below, you will find some lists on ideas of what to act out under certain categories. You will also find guidelines next to some ideas, as a way to help you out during a game! If you feel like shying away from the guidelines, go ahead - there's no wrong way of acting things out in charades!
Generate Charades Ideas for Kids Now!
List of Family Movies to act out
Movies can be a great way for the family to spend some time together! But why not act out some of your favourites? See below for a list of family movies to act out during a game!
The Karate Kid – use some of your karate moves to help you out here!
Zootopia – do your best animal impressions without making noise!
Frozen – rub your upper arms to signal you're cold!
Toy Story – pretend you're playing with small toys and then open an imaginary book and flick the pages!
Moana
Beauty and the Beast
Coco
The Incredibles
Finding Nemo
The Lego Movie
Trolls
The Lion King
Despicable Me
The Goonies
Inside Out
Home Alone
Wreck-It-Ralph
Shrek
Big Hero 6
Enchanted
Shark Tale
Aladdin
The Boss Baby
How to Train Your Dragon
The Little Mermaid
The Mighty Ducks
Over the Moon
Dolittle
The Secret Life of Pets
The Greatest Showman
List of Family Books to act out
The key to a great game of family charades is to act out things that the whole family will know. See below for a list of books that everyone in the family will have likely heard of!
Harry Potter – pretend you have a wand in hand and try your best at casting some of your favourite spells!
The Hunger Games – rub your belly to signal you're hungry, then pretend there is a controller in your hands and act as if you are playing a video game!
The Princess Bride – attempt that sow walk down the aisle to signal you are a bride!
The Wizard of Oz – pretend you have a wand in hand and cast some spells, then jump up and down like a kangaroo to make people think of Australia!
The Maze Runner
James and the Giant Peach
Jurassic Park
The Nightmare Before Christmas
Holes
Charlie and the Chocolate Factory
Life of Pi
Paddington Bear
The Jungle Book
Mary Poppins
The Twits
Twilight
Matilda
Stardust
The Golden Compass
Winnie the Pooh
Percy Jackson
Little Women
To Kill A Mockingbird
Pride and Prejudice
Wonder
The Book Thief
Charlotte's Web
Alice's Adventures in Wonderland
The Chronicles of Narnia
Twilight
Generate Charades Ideas for Kids Now!
List of Family Songs to act out
While some of the songs in this list are not exactly 'family songs', everyone in the family is likely to have heard of them! See below for our list of family songs to act out!
Sorry (Justin Bieber) – get on your knees and act sad, as if you're begging for forgiveness!
Shape of You (Ed Sheeran) – draw different shapes in the air and the point to somebody!
One Dance (Drake) – put your index finger up so people guess 'one' and then show them your greatest dance moves!
Fight Song (Rachel Platten) – start shadow boxing, then put your hand on your mouth and move it away from your mouth to signal 'song'
Happy (Pharrell Williams)
The Wheels on the Bus (Folk Song)
Uptown Funk (Mark Ronson)
Hello (Adele)
Can't Stop the Feeling (Justin Timberlake)
Twinkle, Twinkle Little Star (Lullaby)
Closer (Chainsmokers)
Shake it Off (Taylor Swift)
The Best of Both Worlds (Hannah Montana)
Stitches (Shawn Mendes)
Havana (Camilo Cabello)
Despacito (Luis Fonsi)
All I Want (Kodaline)
What Dreams are Made of (Lizzie McGuire)
Stay with Me (Sam Smith)
The Heart Wants What it Wants (Selena Gomez)
7 Rings (Ariana Grande)
Blinding Lights (The Weeknd)
Someone You Loved (Lewis Capaldi)
This Is Me (Keala Settle)
A Whole New World (Zayn, Zhavia Ward)
Lose You To Love Me (Selena Gomez)
Circle of Life (Carmen Twillie, Lebo M)
Gangnam Style (Pay)
Speechless (Naomi Scott)
Drivers License (Olivia Rodrigo)
List of Family TV Shows to act out
See below for a list of well-known TV shows the whole family could enjoy!
Looney Tunes – do the crazy symbol next to your temple, then pretend you're playing different musical instruments to signal different tunes!
Popeye the Sailor – pretend to open a tin, eat the contents, and flex your muscles!
Scrubs – pretend you're putting on doctor's gloves and clothing and act as if you're operating on someone
Sherlock – look for clues!
Transformers
Zoey 101
The Simpsons
Pokémon
Rugrats
The Flintstones
The Powerpuff Girls
Tom and Jerry
Kim Possible
The Fresh Prince of Bel Air
Modern Family
Teenage Mutant Ninja Turtles
Malcolm in the Middle
Sesame Street
Victorious
Spider-Man
Shaun The Sheep
That's So Raven
Wizards of Waverly Place
iCarly
Modern Family
One Day At A Time
Heartland
Young Sheldon
Drake and Josh
This Is Us
Generate Charades Ideas for Kids Now!
List of Family Characters to act out
Whether you're a child or not, you should still know and love most of these characters! Below is a list of characters likely to be known by the entire family!
Indiana Jones – run along, lie on the floor, then turn and pretend to grab your cowboy hat and put it on your head!
Robin Hood – pretend to shoot arrows from a bow (if you have a hoodie on, put up your hood)!
Rocky Balboa – pretend you're inside the ring!
James Bond – act out the famous opening to every James Bond movie, in which you walk along casually and then suddenly stop, turn and shoot!
Hermione Granger
Wolverine
Captain Jack Sparrow
Scooby-Doo
Woody
Catwoman
Thomas the Tank Engine
SpongeBob SquarePants
Luke Skywalker
Katniss Everdeen
Mickey Mouse
Captain America
Pikachu
Homer Simpson
Garfield
Snoopy
Iron Man
Elsa
Edna Mode
Optimus Prime
Frodo Baggins
Aslan
Inspector Gadget
Ethan Hunt
Batman
Captain Kurk
Generate Charades Ideas for Kids Now!
Printable Cards of Charades Ideas for the Family
If you want more lists, you can download them in PDF format by clicking the links below. You can print them out and cut them up to use for a physical game. If you'd rather go green, you can head to the next section!
Family Charades Ideas Generator
If you would prefer to be more environmentally friendly, you can use our regular online charades ideas generator or our charades ideas generator for kids to help come up with things to draw during a game with the whole family. They contain all of the ideas above, plus many, many more. It also tells you how many words are in each idea, which can be ideal for younger children!