Resources
>
Famous People Charades Ideas - The Complete List of 150 Celebrities (Updated 2021)
Famous People Charades Ideas - The Complete List of 150 Celebrities (Updated 2021)
Who is your favourite celebrity or person in history? They could be someone you look up to, or someone you aspire to be. Haven't you always wanted to step inside their shoes if even for one day? Charades is the perfect opportunity to do that while having a laugh with your family and friends! Read below for a list of charades ideas about famous people that can be used during a game of charades or use our charades ideas generator for free!
Use Our Online Charades Ideas Generator!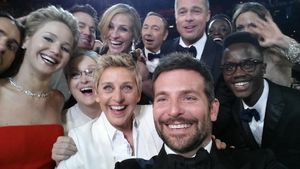 Image courtesy of @TheEllenShow
Table of Contents
Movie Stars for Charades
Everyone has a favourite actor… But how good are your acting skills in comparison?
Will Smith
Helen Mirren
Jude Law
Melissa McCarthy
Tom Cruise
Scarlett Johansson
Robert Downey Jr.
Sandra Bullock
Liam Neeson
Emma Watson
Matt Damon
Jodie Foster
Ryan Reynolds
Angelina Jolie
Colin Firth
Emma Stone
Timothée Chalamet
Julia Roberts
Woody Harrelson
Nicole Kidman
Matthew McConaughey
Jennifer Lawrence
Arnold Schwarzenegger
Meryl Streep
Pedro Pascal
Charlize Theron
Brad Pitt
Jessica Chastain
Hugh Jackman
Blake Lively
Singers for Charades
Thankfully this is a silent game, so there's no need to sing your favourite song… Unless, of course, you feel compelled! In which case, you can sing during someone else's turn! (Disclaimer: We cannot take responsibility for the actions of others should you choose to sing!)
Justin Timberlake
Gwen Stefani
Niall Horan
Britney Spears
Kanye West
Beyoncé Knowles
Rod Stewart
Katy Perry
Elton John
Adele
Robbie Williams
Samantha Mumba
Hozier
Susan Boyle
Ed Sheeran
Lady Gaga
Eminem
Selena Gomez
Justin Bieber
Ariana Grande
Niall Horan
Camila Cabello
Shawn Mendes
Lewis Capaldi
Taylor Swift
Harry Styles
Shakira
Travis Scott
Cher
David Bowie
Sports People for Charades
On a scale of 1 to 10, how well do you know your sports? If your answer is below 1, this list should help you out!
Michael Jordan
Serena Williams
Conor McGregor
Mia Hamm
Cristiano Ronaldo
Annika Sörenstam
Roger Federer
Ronda Rousey
Brian O'Driscoll
Mao Asada
Rory McIlroy
Simone Biles
Michael Phelps
Rebecca Adlington
Usain Bolt
Billie Jean King
Lewis Hamilton
Katie Taylor
Michael Schumacher
Alex Morgan
Lionel Messi
Misty Copeland
Mike Tyson
Wilma Rudolph
Tiger Woods
Hilary Knight
Wayne Gretzky
Alice Coachman
Kobe Bryant
Lynn Hill
People of History for Charades
Have you ever wanted to go back in time and see the world in the eyes of a famous historical figure? Well now you can! Without the back in time part of course!... Or actually seeing life through the eyes of someone else… Just play the game.
Leonardo Da Vinci
Mother Teresa
Abraham Lincoln
Marilyn Monroe
Nelson Mandela
Margaret Thatcher
Christopher Columbus
Rosa Parks
Martin Luther King
Anne Boleyn
Muhammad Ali
Queen Victoria
Albert Einstein
Amelia Earhart
Neil Armstrong
Jane Austen
Mahatma Gandhi
Maya Angelou
Alexander Graham Bell
Anne Frank
Isaac Newton
Catherine the Great
George Washington
Sojourner Truth
Abraham Lincoln
Marie Curie
Vincent Van Gogh
Marie Antoinette
Malcolm X
Ada Lovelace
Fictional Characters for Charades
Like your favourite actor, here's a chance to act like one of your favourite characters!
Ron Burgundy
Rapunzel
Jack Reacher
Wonder Woman
Homer Simpson
Hermione Granger
James Bond
Lois Lane
Indiana Jones
Lara Croft
Luke Skywalker
Dorothy Gale
Samwise Gamgee
Sarah Connor
Agent J
Mulan
Bruce Wayne
Katniss Everdeen
John Wick
Rey Skywalker
Mr. Bean
Marge Simpson
Peter Griffin
Jasmine
Aladdin
Moana
Maui
Black Widow
Peter Parker
Captain Marvel
Printable Cards of Famous People Charades Ideas
Download the entire list of famous people you just read through, including all of the singers, movie stars, actors, actresses, politicians and fictional characters! Click on the link below, print the PDF and cut up into charades cards. Want to help the environment? Then go green and use our online people charades generator.
Download a printable list of famous people ideas for charades
Want More?!
There are many more famous people to choose from, however, we hope this list helps to get you on your way to a great game of charades! If you'd like more ideas for famous people or other random charades ideas based on different topics, you can click here for our free charades ideas generator!