Resources
>
List of 100 Funny Charades Ideas and How to Act Them Out (Updated 2021)!
List of 100 Funny Charades Ideas and How to Act Them Out (Updated 2021)!
Everyone loves a great game of charades! The best way to have a great game of charades is to have a list of funny things to act out. When funny charades actions are incorporated into the game, everyone has a much more enjoyable time! Having a laugh together always makes people more comfortable around each other. Acting out funny charades actions can lighten the mood from the start, allowing people to get right into the fun of things, which is the whole point of charades! A list of funny things to act out and other funny charades actions can be found below!
Use Our Online Charades Ideas Generator!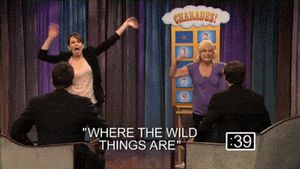 'Where the Wild Things Are' can be an intense first round!
Image courtesy of www.youtube.com
Table of Contents
List of Ideas for Funny Charades Ideas
Remember, the guidelines next to some of these ideas are just guidelines! You don't always need to follow them, as I'm sure you can think of funnier ways than us to act out some of these ideas. Just try your best to be as creative as possible and come up with your own ways of acting out funny charades ideas if you'd like!
List of Funny Movies to act out
There are many funny charades actions that can be added into routines when acting out movie titles! Being as creative as possible can always result in funny actions and laughter from other team players! Below is a list of some funny movie ideas that you can choose to act out.
March of the Penguins
Rise of the Planet of the Apes
Kung Fu Panda – eccentric Kung Fu moves are always necessary here
Cool Runnings
Drop Dead Gorgeous
A Bug's Life
Superbad
Airplane!
Anchorman: The Legend of Ron Burgundy
King Kong
I Love you, man
Zoolander
Iron Man – pointing at a man and acting out ironing clothes are a creative and funny way to get this movie title across!
When Harry Met Sally - reenacting the iconic scene from this movie should suffice!
Shazam!
The Invisible Man
Borat: Cultural Learnings of America for Make Benefit Glorious Nation of Kazakhstan
The Accountant
A Star Is Born
The Martian
Captain Fantastic
Eddie the Eagle
The Guernsey Literary and Potato Peel Pie Society
Once Upon A Time in Hollywood
The Lobster
List of Funny TV Shows to act out
Some TV shows and their titles can prove to be very difficult to act out without making it funny! A list of funny charades ideas, along with some funny actions, can be found below.
The Big Bang Theory
Baywatch – slow running is a great and funny way to act out this popular TV show!
The Walking Dead
Spongebob Squarepants – there is no way of acting this out without being funny!
The Vampire Diaries
South Park – Attempting to park a fake car can be tough but can also turn into a funny charades action!
The IT Crowd
Game of Thrones
The Office
How I Met Your Mother
It's Always Sunny in Philadelphia – I have no idea how you can try to act this out, but one thing is for sure, it's gonna be funny!
Schitt's Creek
Stranger Things
Parks and Recreation
The Last Dance
BoJack Horseman
Peaky Blinders - a game of peek-a-boo might help with the first word
Peep Show
Lost
Only Fools and Horses
Hardy Bucks
Walking with Dinosaurs
Fleabag
Freaks and Geeks
Spaced
List of Funny Songs to act out
See below for a list of song titles you can act out! Just remember to be as creative as possible and you'll be sure to get a few laughs!
Hit Me Baby One More Time (Britney Spears)
Fire (Kasabian) – acting out fire can be more difficult than it seems!
Milkshake (Kelis)
Smells Like Teen Spirit (Nirvana)
Walk the Line (Johnny Cash) – here you could be creative and act out a 'lion' for fun rather than a 'line'!
The Real Slim Shady (Eminem)
I Wanna Dance with Somebody (Whitney Houston)
Shake It (Metro Station)
I Bet That You Look Good on the Dancefloor (Arctic Monkeys) – show them some of your moves!
Lego House (Ed Sheeran)
Sweet Child O' Mine (Guns N' Roses)
Best Song Ever (One Direction)
Like a Rolling Stone (Bob Dylan)
Yellow Submarine (The Beatles)
Boombastic (Shaggy)
Macarena (Los Del Río) – I hope you know how to act out The Macarena!
Monster (The Automatic)
Dynamite (BTS)
Earthquake (Labrinth)
Good Vibrations (The Beach Boys)
Psycho (Post Malone)
Thunder (Imagine Dragons)
Smells Like Teen Spirit (Nirvana)
Super Freak (Rick James)
Levitating (Dua Lipa)
List of Funny Books to act out
How well do you know your books? Or more importantly, how well do you know your strange-titled books? Below are a list of some book ideas that you can perform funny charades actions with!
Where the Wild Things Are
The Lord of the Rings
Romeo and Juliet – performing a piece on that famous balcony scene could ensure your career as an actor!
Pride and Prejudice
The Sound and the Fury
Alice's Adventures in Wonderland
The Twits
Gulliver's Travels
The Hobbit – if you're tall, this one could be tough!
Frankenstein
The Scarlet Letter
Charlotte's Web
Moby Dick – unfortunately whale noises are not permitted
Winnie The Pooh
Mother's Milk - why not act out milking a cow for the second word
Thinking, Fast and Slow
The Line of Beauty
Hateship, Friendship, Courtship, Loveship, Marriage
A Visit From The Goon Squad
Sapiens - acting out the evolution of man might help here!
The Vanishing Half
The Disaster Tourist
Empire of Wild
Untamed
Ducks, Newburyport
It's About the Funny Charades Actions, Not the Words!
Try to be as funny as you can when acting out charades! It's not always about how funny the word is, it's how you act it out! Being as creative as possible will ensure maximum laughs from fellow team players! For example, 'March of the Penguins' can appear to be an easy movie title to act out, but once you witness Charlie Day and Jimmy Fallon attempt to act it out, you'll see that's not always the case!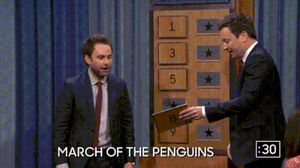 Image courtesy of imgur.com
Want More?!
There are many more funny charades ideas to choose from, however, we hope this list helps to get you on your way to a great game of charades! If you'd like more random charades ideas based on different topics, you can click here for our free charades ideas generator!