Resources
>
The Great List of Charades Ideas for Halloween - 100 Ideas (2021)
The Great List of Charades Ideas for Halloween - 100 Ideas (2021)
Halloween is always such a fun time for all the family. It's a day that's full of exciting things like trick-or-treating and getting all dressed up! But you might want to keep the fun going by playing a game with your family or friends.
Charades is an amazing game for this!
You can play while taking it easy after a tiring day, or you can keep it exciting by playing competitively.
Either way, it can be the perfect option, and we have a full list of Halloween ideas that you can choose from.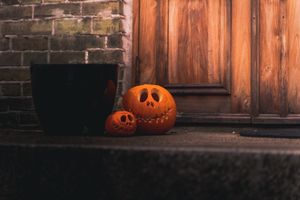 All of the ideas we have listed in this article are based around Halloween, but if you would rather play a regular game of charades, without creating a Halloween theme, you could check out our Charades Ideas Generator for many more ideas. If you're playing with younger children and would rather tailor your game completely towards them, you can check out our Kids Charades Ideas Generator, or you can read our article on Charades Ideas for Kids for lists similar to these.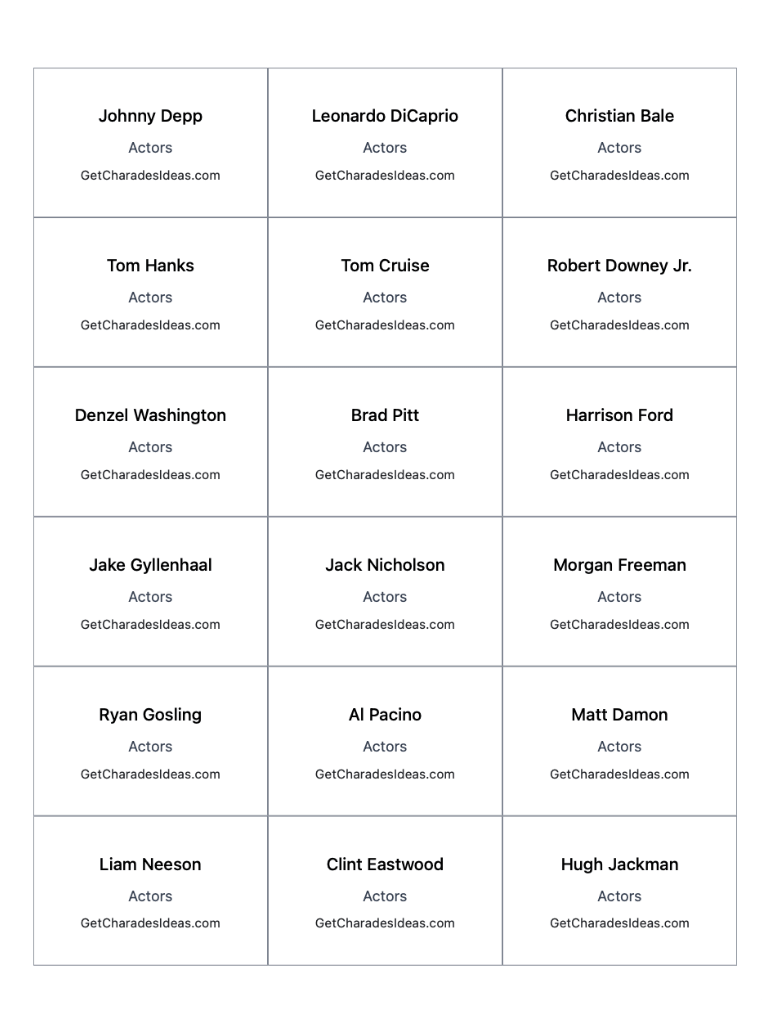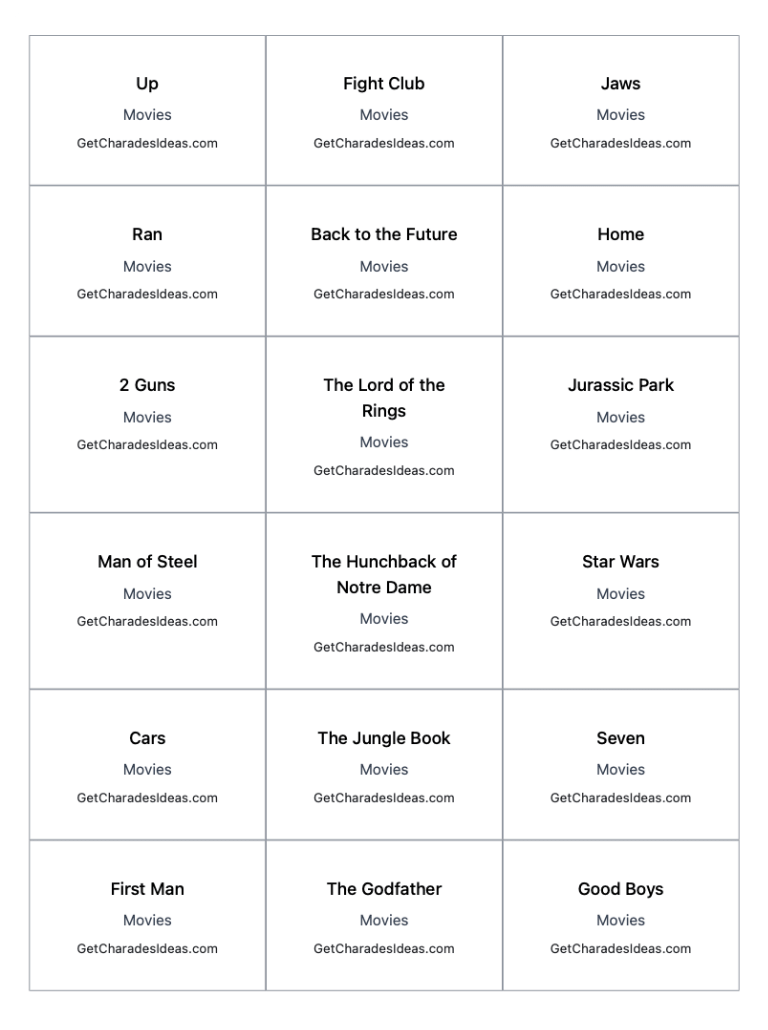 Printable Charades Cards
100s of charades cards ready to print. Free and paid options available to support this site :)
Below, you will find ideas under 4 different categories, including Halloween words, Movies, Books, and Songs - enjoy!
Halloween word ideas
It can be best to start your Halloween charades game off with some common words relating to Halloween. Then if you would like to make things a little tougher, you could move on to some ideas from some of the categories below, creating a more challenging game!
Halloween
Pumpkin
Black cat
Ghost
Witch
Scary
Zombie
Vampire
Bat
Trick-or-treat
Costume
Jack-o'-lantern
Broomstick
Bonfire
Skeleton
October
Cauldron
Graveyard
Cloak
Grim Reaper
Mummy
Werewolf
Fangs
Moon
Sweets
Haunted house
Nightmare
Phantom
Spooky
Scarecrow
Movie ideas
If you're like me, and would rather not get scared by watching some of these movies, why not act them out instead? It would probably just be best if you act out the title, and not any scenes from them…
Halloween II
Scream
Beetlejuice
Shutter Island
Carrie
Ghostbusters
Hocus Pocus
Casper
Wallace & Gromit: The Curse of the Were-Rabbit
Sleepy Hollow
Edward Scissorhands
Mother!
Practical Magic
Rocky Horror Picture Show
A Quiet Place
Halloweentown
The Blair Witch Project
The Nightmare Before Christmas
The Witches of Eastwick
Get Out
Paranormal Activity
The Haunted Mansion
The Sixth Sense
Corpse Bride
Death Becomes Her
Psycho
The Addams Family
Friday the 13th
Nightmare on Elm Street
Doctor Sleep
Book ideas
After reading some ghost stories maybe you can act some of them out! Check out our list below for some Halloween book ideas that are great for a fun game of charades. Try acting out third on the list for a real challenge!
Dracula
Frankenstein
Something Wicked This Way Comes
Room on the Broom
Big Pumpkin
Creepy Carrots!
The Graveyard Book
'Salem's Lot
Interview with the Vampire
Coraline
The Haunting of Hill House
The Silence of the Lambs
And Then There Were None
The Halloween Tree
Pet Sematary
I Know What You Did Last Summer
Ten Timid Ghosts
Pick A Pumpkin
The Shining
The Night Before Halloween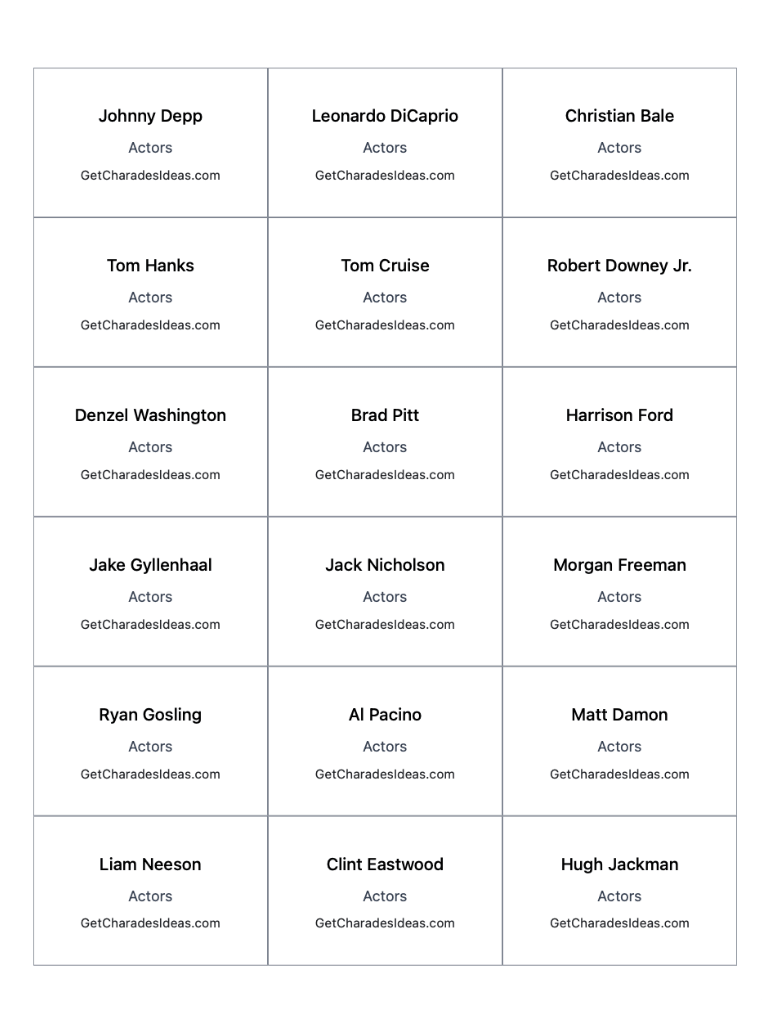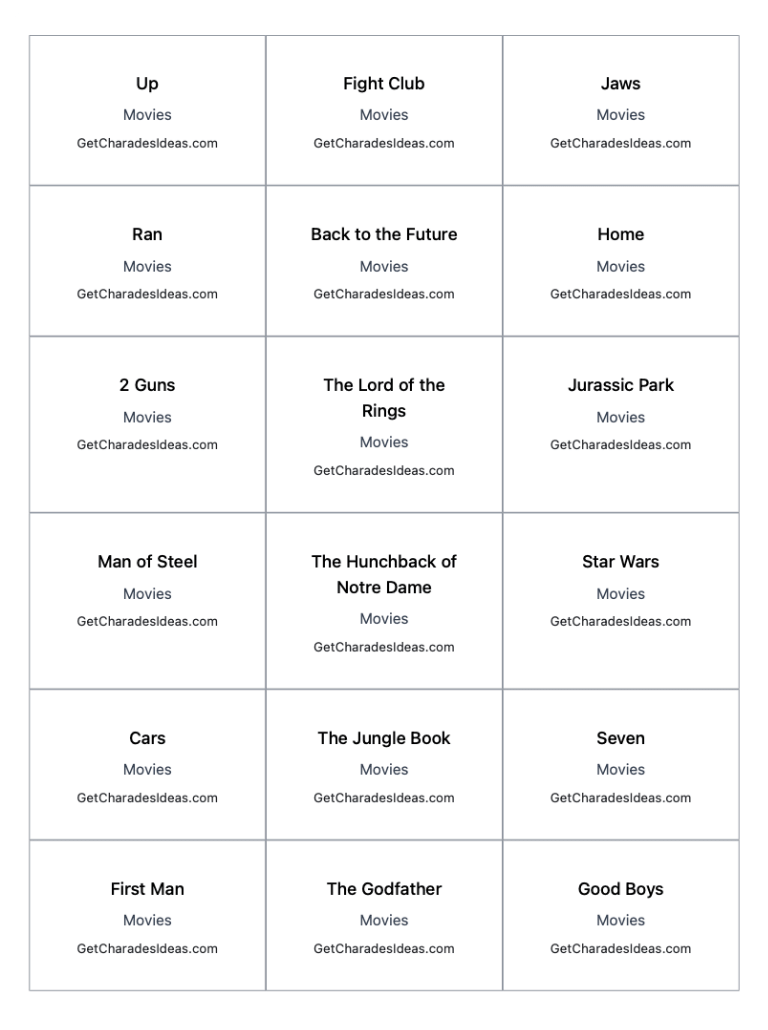 Printable Charades Cards
100s of charades cards ready to print. Free and paid options available to support this site :)
Song ideas
Now, you might be wondering how this is even a category for a Halloween-themed charades game. Unlike Christmas, this holiday doesn't have a bunch of songs that are only played around this time of year. So instead, our list below is full of songs that are simply related to Halloween.
Monster Mash (Bobby Pickett)
Thriller (Michael Jackson)
Don't Fear The Reaper (Blue Öyster Cult)
Dracula's Wedding (OutKast)
Werewolves of London (Warren Zevon)
Disturbia (Rihanna)
A Nightmare On My Street (DJ Jazzy Jeff & The Fresh Prince)
Psycho Killer (Talking Heads)
Heads Will Roll (Yeah Yeah Yeahs)
Witchy Woman (The Beagles)
Dead Man's Party (Oingo Boingo)
Hungry Like The Wolf (Duran Duran)
Feed My Frankenstein (Alice Cooper)
Ghost Town (The Specials)
Howlin' For You (The Black Keys)
Everyday Is Halloween (Ministry)
Haunted (Beyoncé)
The Boogie Monster (Gnarls Barkley)
Freaks Come Out At Night (Whodini)
Boris The Spider (The Who)
Use Our Charades Generator for More Ideas
If you're hoping for more ideas, why not use our free Charades Ideas Generator? We have a wide range of things you can act out - just filter through your favourite categories and get generating! If you would rather have more lists similar to this one, you can have a look at our Resources page for more help. Have fun!