Resources
>
List of Song Ideas for Charades - 180 Ideas (2021)
List of Song Ideas for Charades - 180 Ideas (2021)
It can be difficult to think of a bunch of great charades ideas off the top of your head, but don't worry - we've got you covered!
Below, we have a list of great song ideas for you to choose from while playing charades. If you would like more song ideas, or more ideas in general, you could use our charades ideas generator for extra help!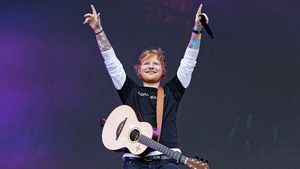 Image courtesy of Variety
Having a variety of song ideas in your inventory can be a great way to play a game of charades. There are those iconic classics that (should!) be known by everyone, and then there are those unconventional, and possibly "eccentric", songs that only you know after finding them in the deepest corners of your "Discover Weekly" playlist on Spotify. Depending on the age group you're playing with – and your overall competitiveness – the types of songs you choose will change the game: You could pick the former for fast, fluid game-play, or choose the latter if you really want to annoy your friends who stick to mainstream music. Either way, our list below covers both, but we also have a list of easy and hard charades ideas in general, if you'd like to check it out.
Our list in this article is split up into 9 different genres of music, including Pop, Rock, Hip-hop and Rap, Country, Classical, Funk, Techno, Kids and Christmas. So hopefully you find something for everyone you're playing with here!
Note: We have the artist's names beside each song. Usually in charades when acting out a song, you don't need to include the artist in the act, just the song title. We've only added the artists so that you have a better chance of knowing each of the ideas. Of course, you can include them if you like - that's the beauty of charades, you can make it your own!
Pop Ideas
Our first genre on the list is Pop. According to Musician Wave, this is "shockingly" the most POPular (... I'm sorry) genre on the music market, making it perfect for a game of charades. Picking a pop song may ensure that most people playing will know what you're acting out.
Watermelon Sugar (Harry Styles)
Thriller (Michael Jackson)
Blinding Lights (The Weeknd)
Call Me Maybe (Carly Rae Jepsen)
I Wanna Dance With Somebody (Whitney Houston)
Like A Prayer (Madonna)
Shape of You (Ed Sheeran)
Don't Stop Believing (Journey)
Shake It Off (Taylor Swift)
break up with your girlfriend, i'm bored (Ariana Grande)
It's Gonna Be Me (N'Sync)
Levitating (Dua Lipa)
In My Blood (Shawn Mendes)
Baby One More Time (Britney Spears)
Firework (Katy Perry)
Genie in a Bottle (Christina Aguilera)
Sorry (Justin Bieber)
Party in the USA (Miley Cyrus)
Without Me (Halsey)
Moves Like Jagger (Maroon 5)
Rock Ideas
Rock song ideas can either be very easy or very difficult to guess in a game of charades. There's plenty of rock songs that everyone knows and loves, and there are equally as many rock songs that few people have ever heard of. If you have your own songs that you know people won't guess too easily, and if you want to give your fellow players a challenge, then by all means take some from your own inventory!
Smells Like Teen Spirit (Nirvana)
Rock and Roll All Nite (Kiss)
Brown Eyed Girl (Van Morrison)
I Bet You Look Good on the Dancefloor (Arctic Monkeys)
Stairway to Heaven (Led Zeppelin)
Sweet Child O' Mine (Guns N' Roses)
When You Were Young (The Killers)
Cocoon (Catfish and the Bottlemen)
Go Your Own Way (Fleetwood Mac)
She Moves In Her Own Way (The Kooks)
Carry on Wayward Son (Kansas)
Basket Case (Green Day)
In Too Deep (Sum 41)
Hallucinogenics (Matt Maeson)
All The Small Things (Blink 182)
Fortunate Son (Creedence Clearwater Revival)
Song 2 (Blur)
Under the Bridge (Red Hot Chili Peppers)
How You Remind Me (Nickelback)
Don't Look Back In Anger (Oasis)
Hip-hop and Rap Ideas
From classic hip-hop to modern rap, we have a great list for you to choose from for a fun game of charades. That being said, this genre in particular might make things difficult for the older generation. According to a study by Statista in 2018, only 6% of people over 55 in the United States listened to this genre. So if you're looking to create a challenge for your parents or grandparents, this list could be for you!
Fight the Power (Public Enemy)
Neighbours (J. Cole)
The Real Slim Shady (Eminem)
Laugh Now Cry Later (Drake)
Mirror (Lil Wayne)
It Was a Good Day (Ice Cube)
Vossi Bop (Stormzy)
California Love (Tupac)
Erase Me (Kid Cudi)
Love Lockdown (Kanye West)
N.Y. State of Mind (Nas)
99 Problems (JAY-Z)
Hypnotize (The Notorious B.I.G.)
Bodak Yellow (Cardi B)
In Da Club (50 Cent)
Goodbyes (Post Malone)
BagBak (Vince Staples)
Goosebumps (Travis Scott)
Conversations (Juice WRLD)
Savage (Megan Thee Stallion)
Country Ideas
It may depend on where you are in the world that will help you figure out whether this is or isn't a popular genre for your audience to know. See below for our list of country songs to help you out in a fun game of charades.
Friends in Low Places (Garth Brooks)
If I Had a Boat (Lyle Lovett)
Wagon Wheel (Darius Rucker)
Everybody Walkin' This Land (Paul Cauthen)
Folsom Prison Blues (Johnny Cash)
Jolene (Dolly Parton)
I'm So Lonesome I Could Cry (Hank Williams)
Martina McBride (Independence Day)
Crazy (Patsy Cline)
Man of Constant Sorrow (Stanley Brothers)
Take Me Home, Country Roads (John Denver)
Sweet Baby James (James Taylor)
Stand By Your Man (Tammy Wynette)
You Don't Know Me (Ray Charles)
Mammas, Don't Let Your Babies Grow Up to Be Cowboys (Waylon Jennings, Willie Nelson)
Wichita Lineman (Glen Campbell)
The Gambler (Kenny Rogers)
Mean (Taylor Swift)
Can the Circle Be Unbroken (The Carter Family)
Highway Don't Care (Tim McGraw)
Classical Ideas
It's more than likely that picking a song from this genre could make things very difficult for anyone in the room to guess! Check out our list of classical songs that you can act out in a game of charades.
Tip: Breaking down the words into syllables can be a great way to act out the song titles that aren't in English!
No. 9 (Beethoven)
O Fortuna (Carl Orff)
Aquarium (Camille Saint-Saëns
The Four Seasons (Vivaldi)
Flower Duet (Delibes)
Overture from the Marriage of Figaro (Mozart)
Carmen (Bizet)
Nessun Dorma (Puccini)
Peer Gynt (Edvard Grieg)
Cavalleria Rusticana (Pietro Mascagni)
The Blue Danube (Johann Straus II)
Eine kleine Nachtmusik (Mozart)
Toccata and Fugue in D minor (J.S. Bach)
In the Hall of the Mountain King (Grieg)
Boléro (Ravel)
Hallelujah (Choir of King's College, Cambridge)
Dance of the Knights (Prokofiev)
Ave Maria (Charles Gounod)
Overture from WIlliam Tell (Rossini)
Canon (Johann Pachelbel)
Funk Ideas
We have a list of funk song ideas that are sure to get you in the groove for playing a great game of charades. While this genre is quite old-school, there are still some songs below that most people will know and love!
Play That Funky Music (Wild Cherry)
Lowrider (War)
Super Freak (Rick James)
Got To Give It Up (Marvin Gaye)
I'll Take You There (The Staple Singers)
It's Your Thing (The Isley Brothers)
Pick up the Pieces (Average White Band)
Let's Groove (Earth, Wind & Fire)
Papa's Got a Brand New Bag (James Brown)
Think (Lyn Collins)
Just Kissed My Baby (The Meters)
Higher Ground (Stevie Wonder)
Tell Me Something Good (Rufus, Chaka Khan)
Jungle Boogie (Kool & The Gang)
More Bounce to the Ounce (Zapp & Roger)
Don't Stop 'Til You Get Enough (Michael Jackson)
Juicy Fruit (Mtume)
Give Up The Funk (Parliament)
I Know You Got Soul (Bobby Byrd)
Uptown Funk (Mark Ronson, Bruno Mars)
Techno Ideas
This genre in particular can be very difficult to guess in charades. Since most techno songs don't have any lyrics in them, it makes it harder to associate the title you're acting out with the song. If you want to create a challenge for yourself and others, take your pick from our list of techno songs.
Sandstorm (Darude)
I Wanna Go Bang (Bjarki)
Your Mind (Adam Beyer)
Drift (Amelie Lens)
Knights of the Jaguar (DJ Rolando)
Rave (Sam Paganini)
Domino (Oxia)
Pacific State (808 State)
The Man With the Red Face (Laurent Garnier)
Escape The System (Dax J)
Subzero (Ben Klock)
Athen Rave Culture (11 Void)
Hurtle (NANCY Live)
Wide Open (Len Faki)
Check It (Schacke)
I'm In Love With You (MSTRKRFT)
Rave Cycle (AIROD)
Rotate (Robert Hood)
Born to Be Slytherin (Viper Diva)
Dusting for Smoke (Daniel Avery)
Kids Ideas
Playing with children? You can check out our list of kids songs below that can give the younger ones a bigger advantage! If you'd like more kids ideas, why not check out our article on charades ideas for kids of all ages. And if you need even more help, you can use our free kids charades generator for additional ideas!
Twinkle, Twinkle Little Star
The Wheels on the Bus
Alice the Camel
Baby Shark
Who Took The Cookie?
Three Little Kittens
Down by the Bay
My Happy Song
The Ants Go Marching
Five Little Ducks
This is the Way
Days of the Week
Yes, I Can!
Old MacDonald
If You're Happy
The Boo Boo Song
Head and Shoulders
After A While, Crocodile
The Itsy Bitsy Spider
Seven Steps
Christmas Ideas
Get into the Christmas spirit with our list of Christmas songs! If you want more Christmas charades ideas, you can check out our article on charades ideas for Christmas, or you can use our free Christmas charades generator for all things Christmas!
Silent Night
Joy to the World
Silver Bells
Jingle Bell Rock
Oh Holy Night
Rocking Around the Christmas Tree
Feliz Navidad
Mary Did You Know
Frosty the Snowman
Santa Claus is Coming to Town
Deck the Halls
Away in a Manger
Carol of the Bells
Do You Hear What I Hear
Hark! The Herald Angels Sing
The Twelve Days of Christmas
Let It Snow
Winter Wonderland
Here Comes Santa Claus
Have Yourself A Merry Little Christmas
Looking For More Ideas?
If you need even more song ideas, you can use our free Charades Ideas Generator. We have many song titles for you to choose from on our generator, along with a bunch of other ideas in different categories. We hope you enjoy your game of charades!